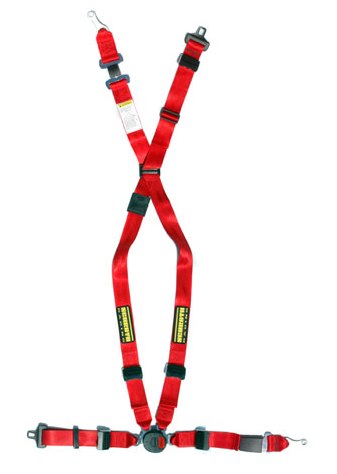 Schroth
Schroth Quick-Fit Pro 4 Point Harness
from

$419.00
Schroth Quick-Fit Pro 4 Point Harness For the first time, a four-point harness has been designed for use with a HANS device with stock seats! Perfect for HPDE, Track Day, and Driving School cars, the Schroth Quick-Fit Pro 4 Point Harness provides your customers a safer, more authentic driving experience by driving with a HANS device. With this harness, you don't have to spend thousands of dollars on a roll bar, new seats, and six-point harnesses to run safely on track! Coupled with a vehicle's existing safety systems, the Schroth Quick-Fit Pro 4 Point Harness is designed to maximize effectiveness of your HANS device. Traditional four-point harnesses are sewn to lap belts, and don't join at the center cam lock. This creates a six- to eight-inch gap. The Schroth Quick-Fit Pro 4 Point Harness answers this problem by allowing each shoulder belt to angle towards the cam lock, integrating with the HANS device. The Schroth Quick-Fit Pro 4 Point Harness works in conjunction with your car's seat belt pre-tensioner and airbag for additional peace of mind. The Quick Fit Pro clicks into the car's female seat belt receptacle, notifying the car's airbag computer that the seat is in use and the driver is restrained. The pre-tensioner is also activated. This device ignites a pyrotechnic charge if an accident happens, tightening the lap belt and holding your driver in snugly. The Schroth Quick-Fit Pro 4 Point Harness is meant to be used with stock seats that have passed a seat-back strength test.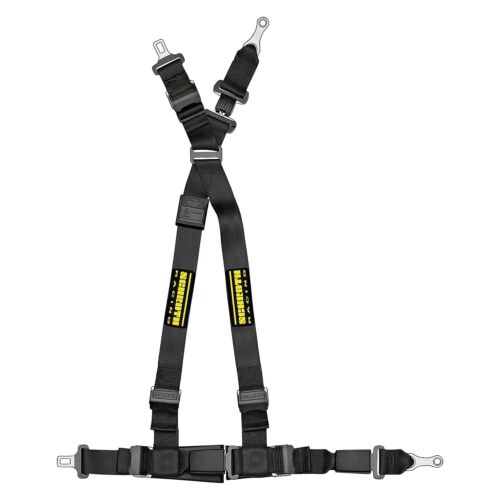 Schroth
Schroth Quick-Fit 4 Point Harness
$299.00
Schroth Quick-Fit 4-Point Harness The Quick Fit Harness from Schroth is an excellent harness solution for people who have dual duty cars (track and street). Not many of us have the means to support a full time track vehicle as well as a street car, and still more of us like driving track-prepared cars on the street. The ultimate harness solution includes fixed-back Kevlar seats, a gazillion point welded roll-cage and a HANS device. None of us are going to (nor do we recommend) do this in our street cars. What's the next best thing? The Schroth Quick Fit Harness. It anchors to factory points, which means you don't have to worry about it ripping out of the sheet metal. The factory points are load tested to withstand a 3,000-pound force for 6 seconds. It has ASM technology that keeps the lap belt low and your rear end firmly planted in the seat. You don't want the lap belt riding up and squeezing your stomach and intestines. A Schroth belt is designed not to. The Quick Fit Belts also take advantage of the factory seat belt pre-tensioner, a device that tightens the belt 1-2 inches in the event of an accident. The Airbags will deploy as the engineers of the system intended for someone buckled in. With any other harness, the car wouldn't detect that someone was buckled in, so the airbags would deploy faster and harder. They also come completely out of the car, giving you full use of your street car for carrying people or cargo. That is what it's for, isn't it? If you have any questions regarding a harness solution for you, please contact us. Please note: These harnesses are designed to be used in stock seats that have passed a seat back strength test. Quick Fit harnesses are not approved for use with any fixed back or aftermarket seats with the following exceptions: The Cobra Nogaro and Recaro Pole Position ABE are approved for use with QuickFIt harnesses in already approved vehicles. This harness is not compatible with HANS or any other head and neck restraint devices. If you plan on using a HANS, the Quick Fit Pro version is compatible.